TV, TV, and more TV…
Aiguste Mockute, Account Director & Will Pearson, Comms Planning Manager
Hear us out on this one…
What would you get if you combine the depths of Sherwood Forest, that guy from Made in Chelsea and Celebs Go Dating (don't pretend like you don't know…), 200 of the brightest up-and-coming media planners and buyers in the country and a turn of snow in late-March?
And that's without a mention of the hot tubs (ahem). Or Gok Wan taking to the DJ decks.
Once you manage to get your head around the fact that you aren't actually having a sudden existential crisis – and equally have double-checked that the contents of your morning coffee are just that – then you can start to piece together what the Big TV Festival 2022 looked like on its return after a COVID-19 induced break.
Hosted by Thinkbox in collaboration with the three main broadcasters (ITV, Channel 4 and Sky), there was (unsurprisingly) a lot of love in the air for AV across one and a half days of non-stop content – from brands using the medium to serve a social purpose, to new-to-TV advertisers spilling their rags to riches tales, to Alex Brooker (part of the eclectic trio of Channel 4's long-standing show The Last Leg) dispelling taboos about how to suitably tackle representation on the small screen.
You were taken in one direction and then immediately the next to showcase another strong draw for TV for brands – whether its effectiveness, the platform for creativity, the growing capabilities surrounding data or diversified viewing offerings – somewhat fittingly akin to watching one of your favourite gripping dramas (it's Gangs of London for anyone asking – S2 is on its way…).
It would be nigh-on impossible to try to touch on all elements of our 48-hours there so we've landed on six moments / outtakes that made us sit up and think 'oooh – that'll make a good note in a post-event write-up'…
Plan through people not data (Simon Daglish, Group Commercial Director at ITV)
1. In an age where data is as accessible as it is plentiful, it's important sometimes to be reminded that we are ultimately trying to reach people – as human beings with human emotions – with our campaigns. The more we treat individuals as a number in an algorithm, the more likely we will be to lose connections with our audiences and ultimately miss out on all of the benefits that come with tapping into the irrational. This is where TV's ability to create mirrored moments of emotion can prove so powerful for brands.
What Rory Sutherland and Sam Thompson have in common (Rory Sutherland, Vice Chairman of Ogilvy)
2. In marketing, we are all guilty of falling into the trap of trying to solve every single 'problem' that we face with a logical and physical solution. The reality is that often the simplest solutions available are found in the psychological space – the mind is the most powerful tool that we possess so how can we 'trick' this into accepting a solution? Would you have two dishwashers at home? Well, Rory and Sam do (and a Japanese toilet but that is a story for another time). Why? You will never have to put clean dishes away. Definitely some food for thought.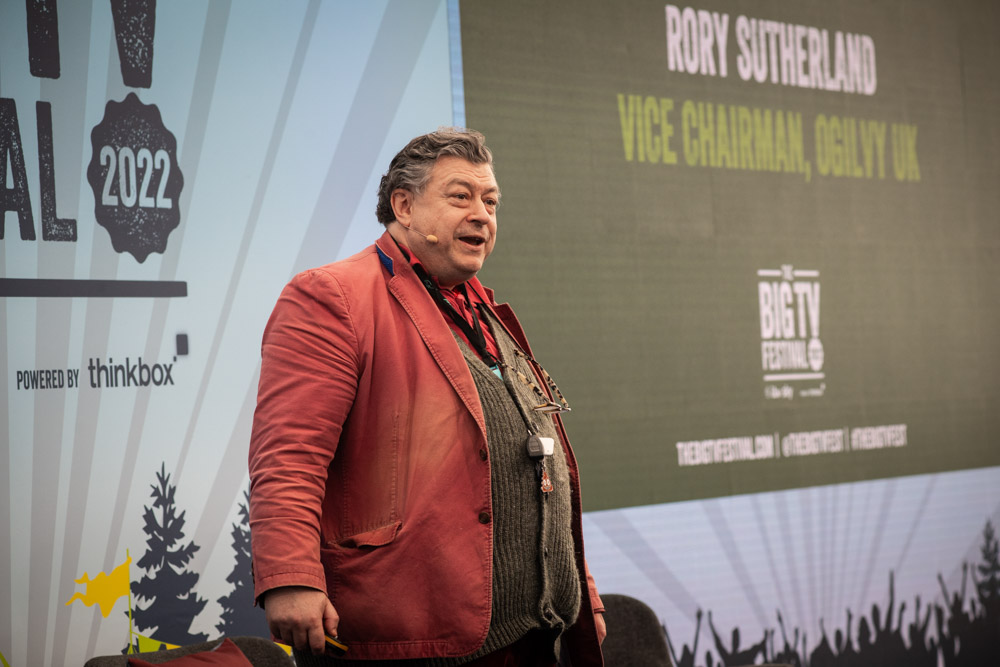 Context is everything (Dan Russell, Managing Director of Seven Stones)
3. Another gold nugget to come from Rory Sutherland is that people perceive the world contextually and that we are generally very lazy. No wonder that the multi-award winning study conducted by Channel 4 found that ads placed in contextually relevant environments drove higher re-call. Our brains like to preserve energy and will look for the least taxing route when consuming information – it will accept it much quicker and easier if introduced in a relevant environment or one it's already familiar with. A good example is the 'Invisible Opponent' campaign from CALM – they not only used real footage of a historical boxing fight in their ad but also secured a spot during Love Island, a programme that has lost two contestants and a presenter to suicide. CALM ultimately saw an increase in calls at circa 70% due to the campaign.
– CALM: Tyson Fury and the Invisible Opponent by Seven Stones and AMV BBDO
TV is here to stay (Broadcaster Panel, ITV, Channel 4 & Sky)
4. It didn't take long for a question from the crowd to touch upon the volatile rates of inflation that we have been experiencing across linear TV since Q4 2021, and you could sense all ears in the room prick up a little. With brand count set to remain high into the summer – and a World Cup on the winter horizon for the first time ever – the war cry from the broadcasters is that they will continue to invest in new content (more-and-more to a cinematic
standard) to try and drive viewers back to their TV sets – ultimately driving impacts back up.
Humour, at the right time and right place (Lindsey Clay, CEO of Thinkbox and Creative Director Panel)
5. Creativity in TV was one of the key themes during the festival weaving itself into panel discussions, and appearing as ads that are changing the world for good on the big screens in a tent that resembled an igloo (very fitting with the snow and hail that we encountered that day…). Among the main ingredients mentioned to produce a stand out social and purpose driven ad is humour, but only if done right and no more than once – revisiting a formula that has worked in the past over and over again will end up delivering diminishing results.
– Beco: Steal Our Staff by TBWA
– Channel 4: Complaints Welcome by 4Creative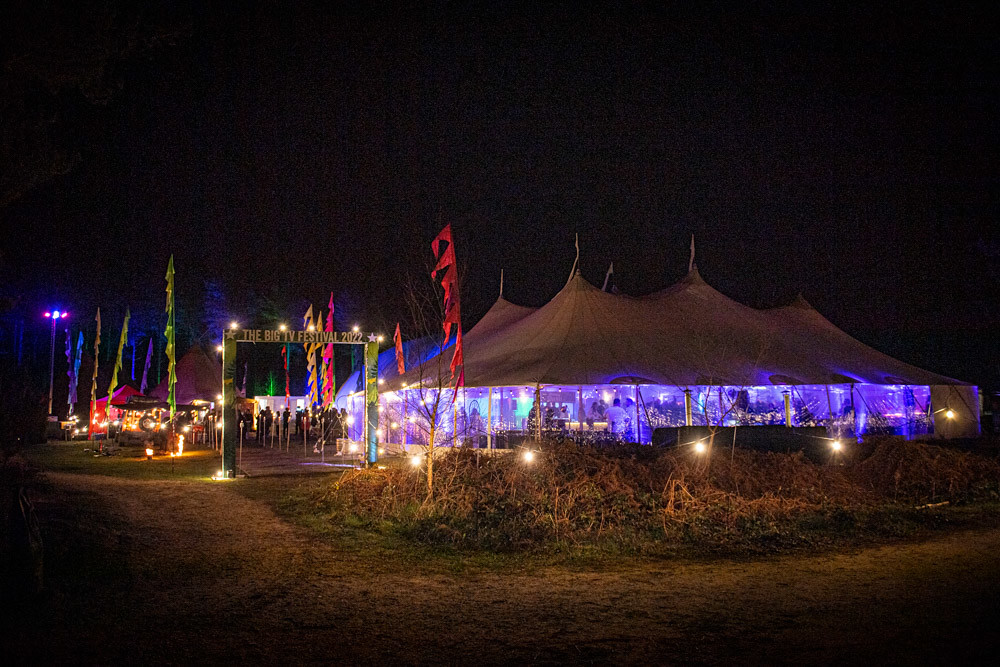 Gok Wan, need we say any more?
6. Lastly, it would be remiss of me to experience a surprise DJ set from the iconic TV personality (and trust me it was a surprise…) as part of the festivities on the final night and not give it sufficient airtime. Some say that you haven't fully lived until you've heard him remix Abba's 'Gimme Gimme Gimme' in the middle of Sherwood Forest.
In an industry where digital prominence grows by the day – noticeably into the more traditional media landscape (of which there is no doubt that TV solutions are evolving in tandem) – it was nice to strip things back and appraise the elements that fundamentally make TV such a powerful tool for advertisers.
To quote the lasting words of Simon Daglish – TV isn't dead, it's having f*cking babies.