by Simon Crunden, Managing Director
Measuring cross-media reach and frequency properly is difficult.  The systems that do it, tend to do so in a simplistic way (adding a deduped % of reach to your largest media reach for each additional media you use), and as media planners we have to take it with a pinch of salt on a local market basis, let alone globally.
So it is exciting to hear that the World Federation of Advertisers (WFA) has today unveiled (with ISBA involved) an "advertiser-centric Framework for cross-media measurement – the "holy grail" for marketers – accompanied by a proposed solution".
Great news. Perhaps we will, at last, be able to plan strategically for audiences seeing advertising an effective number of times, regardless of where they see it.  Hooray!  A massive leap forward for effectiveness.
But something in the ISBA release is worrying me.  They say "The Proposal was developed in partnership with digital platforms, including Facebook and Google".  OK… that makes sense, these are the platforms with the largest global reach so they should be involved.
The problem I have is that these platforms have spent the last decade trying to change our understanding of reach and frequency – and trying to convince us that all impressions are created equal.  If cross-media reach is measured by the impressions served on each platform, then the work those platforms have done to focus on a 3 second view rather than an audible and completed ad will massively (and I do mean massively) over emphasise the importance of Facebook and YouTube on a media plan.
Ebiquity highlight this in their 2018 work with Mediatel that shows how few ads on YouTube and Facebook have actual value for brands.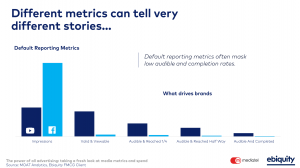 And while the above chart is powerful, you get the feeling the insidious power of Facebook and Google may have encouraged Ebiquity to soften their initial criticism of the world's biggest media owners.  Check out the same chart presented some weeks earlier at a conference – Ebiquity were much stronger in accusing digital media owners of deception in presenting 17,000 audible and completed video ads as 5.3million impressions.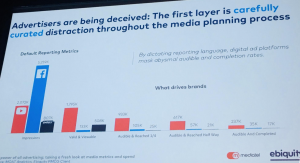 It is hard to see how it could be in Google or Facebook's financial interest to be measured on the effectiveness and engagement with advertising on their platforms.  Conversely, it's easy to see why they might want to be measured on reach – especially when compared with other media.
Hopefully I'm seeing a half-full glass as half-empty for no reason.  Hopefully the many clever and committed advertisers and agencies involved will ensure this measurement system is fit for purpose.  Hopefully the staggering power of the global duopoly will not be strengthened further by their involvement in a cross-media measurement system that becomes the global standard.